Jul 05 2009
A brick-layer!
Why did the chewing gum cross the road?
Because it was stuck to the chicken!
*** CLICK ARROW BUTTON BELOW TO PLAY COMIC SOUND EFFECT ***
Audio clip: Adobe Flash Player (version 9 or above) is required to play this audio clip. Download the latest version here. You also need to have JavaScript enabled in your browser.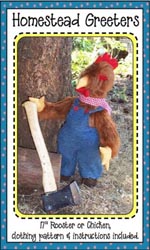 #6809 17 inch Stuffed Animal Pattern - Plush Chicken
---
Big Red the Rooster is ready to greet you with a cock-a-doodle-doo when the sun rises over the country meadow.