Jun 29 2009
A message from the designer of the Homestead Greeters collection: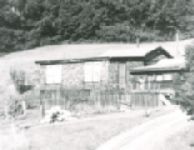 The original homestead in the Sierra Nevada mountains, CA
I live in the mountains of Northern California and have had the pleasure of enjoying a rural lifestyle my entire life. It is from the characters I have met throughout my life that I get my inspiration for my pattern characters. Not a trip to the local grocery store transpires that I don't see "quite a character!"
This is what makes life fun and interesting. I have been sewing ever since the 8th grade when I made my own graduation dress. As my mother was busy with the demands of country living and lively siblings…she handed me the pattern, material and opened up the sewing machine for me. I have loved the creative hum of a sewing machine ever since!
My greatest pride and joy are my two grown children.
My daughter shares my love of sewing and additionally enjoys knitting and crocheting. In addition to sewing, I also enjoy writing and teaching.
I started designing patterns for the Homestead Greeters collection in 1991 and the barnyard gradually filled up over the years. I hope you have as much fun creating these characters as I had designing them.
Happy Sewing:)