Jul 09 2009
A horse with one leg!
And when you ride a hobby horse, YOU add the "clop"!
*** CLICK ARROW BUTTON BELOW TO PLAY COMIC SOUND EFFECT ***
Audio clip: Adobe Flash Player (version 9 or above) is required to play this audio clip. Download the latest version here. You also need to have JavaScript enabled in your browser.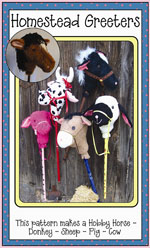 #6841 Hobby Horse Pattern - 5 Styles
---
2 Responses to "What goes "Clip… Clip… Clip…"?"
poplar@lonesome.nashville" rel="nofollow">.…

thank you!…

trusted@pillspot.com" rel="nofollow">.…

thanks for information….