Jul 09 2009
Humpty Dumpty had a great fall
Cracked into pieces, he blamed bad construction for his pain…
So he sued the wall builder for a million dollar gain.
And Humpty's attorney is a teddy bear(see below).
*** CLICK ARROW BUTTON BELOW TO PLAY COMIC SOUND EFFECT ***
Audio clip: Adobe Flash Player (version 9 or above) is required to play this audio clip. Download the latest version here. You also need to have JavaScript enabled in your browser.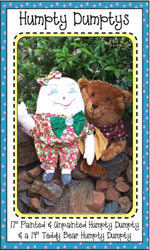 #6824 17″ Humpty Dumpty & 14″ Bear
---
One Response to "Humpty Dumpty sat on a wall"
trusted@pillspot.com" rel="nofollow">.…

hello….