Jun 29 2009
What has four legs and flies?
A Moose-quito!
Knock! Knock!
Who's there?
Moose.
Moose who?
Moose be time for another joke!
What do Alaskans celebrate every December?
Chris-Moose!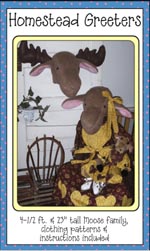 54 and 23 inch Moose Family
#6844 54 and 23 inch Stuffed Animal Patterns - Plush Mooses
---
Darling 4.5 ft. tall Mr. & Mrs. Moose with 23″ Baby Moose. Mr. Moose can also be a made as a mounted moose head sporting a 27″ rack spread as shown.