Jul 04 2009
Julius Cheeser!
What's gray and furry on the inside and white on the outside?
A mouse sandwich!
What does a twelve-pound mouse say to a cat?
'Here Kitty, kitty, kitty'!
What did the mouse say when his friend broke his front teeth?
"Hard cheese, huh?"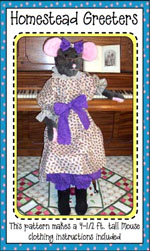 54 inch Granny the Mouse
#6818 54 inch Stuffed Animal Pattern - Plush Mouse
---
As little red riding hood would say: "Granny what big eyes you have!" Granny replies: "The bigger to see you with my dear!"
Dress and bloomer instructions included.