Jul 04 2009
Swine flu!
Why do pigs never recover from swine flu?
Because you have to kill them before you cure them!
*** CLICK ARROW BUTTON BELOW TO PLAY COMIC SOUND EFFECT ***
Audio clip: Adobe Flash Player (version 9 or above) is required to play this audio clip. Download the latest version here. You also need to have JavaScript enabled in your browser.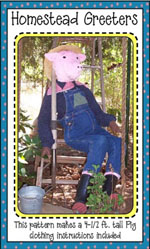 54 inch Buddy the Pig
#6819 54 inch Stuffed Animal Pattern - Plush Pig
---
No, you won't catch swine flu from Buddy the Pig- he's just looking tired from all his farming!